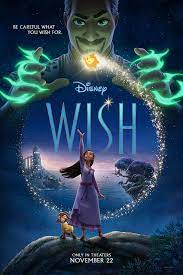 Disney Celebrates 100 Years: Release Trailer For 'Wish'
Posted On:

September 28, 2023
The trailer for 'Wish' lands and as always Disney doesn't disappoint. The film takes us to the magical kingdom of Rosas, where Asha, a sharp-witted idealist, makes a wish so powerful that it is answered by a cosmic force; a little ball of boundless energy called Star. Together, Asha and Star confront a most formidable foe, the ruler of Rosas, King Magnifico, to save her community and prove that when the will of one courageous human connects with the magic of the stars, wondrous things can happen.
Among the voice cast is Asha DeBrose, Chris Pine, Alan Tudyk, Victor Garber, Jennifer Kumiyama, Evan Peters, Harvey Guillén and Ramy Youseff .
'Wish' will be released in US cinemas on the 22nd of November and in the UK on the 24th of November 2023.
Click the link below to watch the trailer
https://www.youtube.com/watch?v=oyRxxpD3yNw