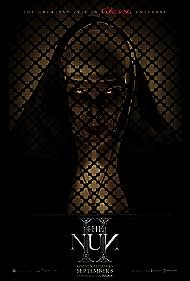 The Nun II Scares Equalizer 3 From Box Office Top Spot.
Posted On:

September 13, 2023
'The Nun II' gain's top spot at the box office with it's opening weekend earning $32.6 million from 3728 locations which was enough to take the crown from 'Equalizer 3'. The film also took top spot in UK cinemas as well as 51 other international markets and had earned $85 million globally, in its first three days. There are seven markets yet to release including key territories France (September 13), Germany (September 21), South Korea (September 27) and Japan (October 13).
'The Nun II,' is the ninth chapter in Warner Bros.' ongoing 'Conjuring' series, which now has nine films, and $2.1 billion in box office, to its name. Although the film had an impressive start it didn't match the high-water mark set by its 2018 predecessor "The Nun," which opened with $53.8 million. However, it is still the second-biggest opening for a Conjuring-universe film.
"To have a horror universe is really powerful in terms of the revenue generating potential," said Paul Dergarabedian, the senior media analyst for Comscore. "It's a great bet that Warners made on the horror moviegoing experience never waning."
And there are many more scary movies on the calendar through the fall including "A Death in Venice," which opens next week, "Saw X" on Sept. 29 and "The Exorcist: Believer" on Oct. 6.
This movie sees Taissa Farmiga and Bonnie Aarons return as Sister Irene and the titular Nun, respectively, with newcomers to the franchise, Jonas Bloquet, Storm Reid and Anna Popplewell rounding out the ensemble of frequently habit-wearing characters.

To watch the trailer for Nun II please click on the link below
https://www.youtube.com/watch?v=QF-oyCwaArU