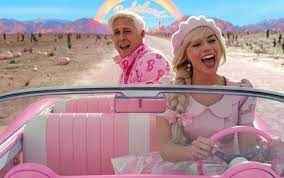 Barbie Breaks Yet Another Box Office Landmark
Posted On:

August 30, 2023
'Barbie' was released in July and was an instant hit with audiences, following a colourful and campy promotional campaign, utilising the power of social media.
The film, if you didn't already know, stars Margot Robbie as the titular doll, with Ryan Gosling taking on the role of beach Ken.
On Monday 29th of August, 'Barbie' passed $1.342bn (£1.06bn) at the global box office, which was the amount grossed by 'Harry Potter and the Deathly Hallows – Part 2', which was Warner Bros' highest grossing film until it was knocked of top spot by Gretea Gerwig's film.
In the US, 'Barbie' hit $592.8m (£470m) on Sunday (27 August), while its overseas tally was $745.5m (£591m). The film is now projected to cross the $600m mark in the US later this week, and will become only the 13th movie in history to do so.
Responding to this new global milestone, Warner Bros. Motion Picture Group co-CEOs Michael De Luca and Pam Abdy shared their pride in a statement.
"Reaching this outstanding achievement is a reminder of the power of moviegoers – from countries in every corner of the globe – coming together to further the celebration of an iconic character that has entertained us for so many decades."