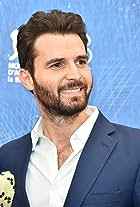 Italian Film Producer Plans $55 Million Studio
Posted On:

August 10, 2023
Italian film producer Andrea Iervolino, whose movie credits include the Oscar-nominated 'Tell It Like a Woman' and Michael Mann's upcoming 'Ferrari' biopic, and now he is making ambitious plans for a new film studio complex in Tuscany and could begin operation as early as Autumn 2024.
In an interview with THR Roma, the Ferrari producer said "My idea is simple. To create an avant-garde film hub in a place that is, in itself, one of the most beautiful in the world, where stars would gladly come to shoot… I was in Rome the other day, dining with James Franco. I told him about the project, which is already in the operational phase, and he said, 'I would come to shoot there tomorrow!"
Italy's film production is booming with the help of the country's generous 40 percent tax incentive for international shoots and the Italian government's support for the legendary, state-owned Rome studio Cinecittà. Mann shot 'Ferrari', which stars Adam Driver and Penelope Cruz and which will premiere at the Venice Film Festival later this month, at the studio.
With this increasing demand, independent producers see an opportunity to build out Italy's production capacity. Tarak Ben Ammar, owner of leading Italian indie distributor Eagle Pictures, also recently announced his own plans for a $50 million-plus studio outside Rome.
Tuscany studio plans are said to build a backlot with both traditional sound stages and ones equipped for virtual reality. The studio will also be the largest VR studio complex in Italy and 360-degree production.
Andrew Iervolino said "Live action 360-degree cinema is the great frontier of the future. "We've already acquired a huge library of backgrounds and scenery from around the world, meaning, even for 360-degree immersive reality, there will be no need to go to Siberia or Bangkok to shoot a scene set in Siberia or Bangkok."
He plans to include a public movie theatre, production offices and a hotel at the same complex.
Andrew Iervolino continued his interview by saying"The hotel will be a luxury resort designed to accommodate the actors who will come to film at our studios. It will also be open to private customers. At the same time we will organise visits to the surrounding area, to wine estates. We plan to connect quality tourism with film production."
It seems as though it's very exciting times for Italy's film industry.