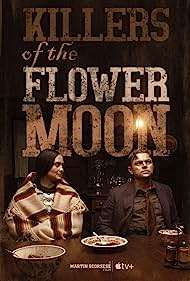 Trailer: Martin Scorsese Movie ' Killers of the Flower Moon'
Martin Scorsese's highly anticipated serial killer period drama, 'Killers Of The Flower Moon' and following May's first-look trailer, a main trailer has been released ahead of the film's October release in cinemas. The film premiered this year at Cannes opening to high praise from critics.
Apple has financed Martin Scorsese's latest film , which has a reported budget of $200m with a star-studded cast. Martin Scorsese was given freedom in the creation of this project, which has a runtime of 206 minutes.
The film will have a cinema release before heading to Apple TV+.
The period drama starring Leonardo DiCaprio, Jesse Plemons, Lily Gladstone and Robert De Niro takes place in 1920s Oklahoma and depicts a string of brutal murders of Osage Nation Native Americans, which came to be known as the Reign of Terror. The Osage Nation, who were the richest people per capita in the world, were killed one by one after oil was discovered on their land. As the death toll rose, the newly-created FBI took up the case and unraveled a chilling conspiracy and one of the most monstrous crimes in American history.
The film also stars John Lithgow, Brendan Fraser, Cara Jade Myers, JaNae Collins, Jillian Dion, Tatanka Means, William Belleau, Scott Shepherd and Tantoo Cardinal to name a few.
'Killers of the Flower Moon' will be released in cinemas on the 6th of October for special screenings with a wider theatrical release coming on the 20th.
There has been no date announced as of yet when the film will land on Apple TV+.
To watch the trailer click on the link below:
https://www.youtube.com/watch?v=EP34Yoxs3FQ