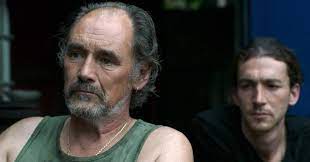 Mark Rylance in new horror set in Gloucestershire
'Inland' is an atmospheric folk horror movie written and directed by Gloucester filmmaker Fridjtof Ryder and produced by Stroud-based Henry Richmond. It was filmed in and around Gloucester and the Forest of Dean.
Alongside Sir Mark Rylance, up-and-coming actor Rory Alexander, who recently worked with Danny Boyle on 'Pistol', stars in the lead role, alongside a star-studded cast including Shaun Dingwall, Sebastian Orozco, Nell Williams and Kathryn Hunter.
The story follows a young man's journey through a haunted and fractured life, following the mysterious death of his mother, a woman of Romani descent with a strong connection to the natural world, which draws on our collective psychological connection to nature.
The director said: 'There is a hauntedness to the wet green hills and forests, something that speaks of a connection we are swiftly losing and cannot afford to lose. The ecological threads of the film tie in directly with the mythical ones… how the land shapes us, a love letter to mothers, and how, hiding somewhere, between the cracks, is something illogical, something in the form of dream and memory and poetry that is older than us, and that speaks to us about this land we live on, and this borrowed time we live in.
'Inland' opened at the Gloucester Guildhall cinema on Saturday 24 June 2023 with a special screening followed by a Q&A with the director. The film will continue to screen until Thursday 6th of July 2023.
To check out the trailer please see the following link:
https://www.youtube.com/watch?v=lcvP5owp7x4&embeds_referring_euri=https%3A%2F%2Fwww.soglos.com%2F&source_ve_path=OTY3MTQ&feature=emb_imp_woyt