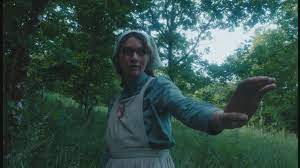 First Look At Cornish Folk Horror Starring Emma Appleton
First time feature film director Dean Puckett has just wrapped on his Cornish folk horror which stars Emma Appleton, other cast members include Jodhi May, Lewis Gribben, Barney Harris, Oliver Maltman, James Swanton, and Toby Stephens.
The film is produced by Rebecca Wolff of Grasp the Nettle Films and Jude Goldrei of Lunar Lander Films.
Logline
When Magpie's husband dies in mysterious circumstances, a brutal witch-hunt threatens to tear apart an isolated religious community.

Executive Producers on the pic are Piers Holdsworth Hunt, Kate Byers, Linn Waite, Malik Ali, Badie Ali, Hamza Ali, Evan Leighton-Davis, and Rupert Hanbury-Tenison. Co-Producers are Daria Nitsche and James Brant, with Ella Turner as Associate Producer.
The project was developed as part of the BFI, BBC Films, and Creative UK's iFeatures program, which has developed successful indie pics such as Lady Macbeth and Apostasy. Support was provided by Cultivator Cornwall's Screen Growth Production Fund, Falmouth University, OnSight, HH5, Heatseeker Media ELD, James Brant, and Primary Visual Effects.
MPI Media are handling sales.