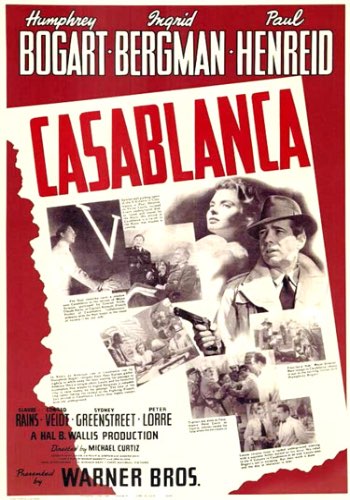 Vintage Movie Posters To Be Auctioned
Over 1,000 vintage movie posters, are due to be auctioned and said to be worth around the £1.6 million mark. The collection features posters from classic movies including Casablanca, War Of The Worlds, The Maltese Falcon and the Star Wars franchise.
Organised by Propstore the Los Angeles auction will sell to the highest bidder where the vintage posters will range from £80 to £80,000. Among the most valuable posters which is due to be auctioned is one of four known copies of the Oscar-winning western 'Cimarron.' The movie, starring Richard Dix and Irene Dunne, earned seven nominations at the 1931 Academy Awards, winning three including best picture. Other top lots include an ultra-rare and unrestored poster for Fritz Lang's mystery suspense thriller 'M', one of only two known copies, which is expected to sell for up to £65,000.
Other posters include:

'The Maltese Falcon' The film is considered to have helped launch the film noir genre and the poster is one of the most sought-after within the collecting community, according to Propstore.
Posters from George Lucas' original Star Wars trilogy, 'A New Hope and Return Of The Jedi'.
Posters from 'Son Of Frankenstein', 'Seven Samurai', 'Invasion Of The Body Snatchers' and '2001: A Space Odyssey.'
Grey Smith, director of posters US at Propstore, said: "I am incredibly excited to be a part of the Propstore team with the opportunity to bring my knowledge and experience of posters, auctions and film history to this amazing company. Personally, I am impressed with the scope of items that we will be presenting in May, from rare classic movie posters to some modern favourites. I'm looking forward to working with Propstore, adding to its reputation as a world leader in entertainment memorabilia and collectibles."
Online bidding for the posters is now open on Propstore.com and lasts until May 17 and 18.
Happy bidding for those of you who are interested.
To see the full article click on the link below:
https://www.walesonline.co.uk/whats-on/film-news/gallery/pictures-vintage-movie-posters-sold-26729417