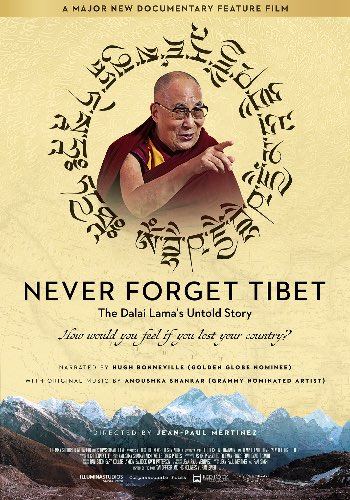 Dalai Lama Documentary Confirms Release Date
Our wonderful documentary 'Never Forget Tibet – The Dalai Lama's Untold Story' is coming to cinemas across the UK from April 4th 2023. Tickets can be pre-ordered now at www.neverforgettibet.com.
The officially-sanctioned documentary directed by Jean-Paul Martinez features an incredible 10-minute guided meditation with His Holiness' close friend and meditation legend Dr Deepak Chopra, which will be filmed at the UK premiere, which is an amazing unique approach and will set the premiere aside from other documentaries.
'Never Forget Tibet' explores, with His Holiness 14th Dalai Lama, the details of his incredible escape into exile for the first time on film in his own words with the Indian political officer who led him to safety.
Featuring the Tibetan community in exile and those with historic ties to Tibet, the film explores the Dalai Lama's compassion for a world seemingly in crisis today and seeks to find what can be learnt from his inspirational life story, Tibetan culture and its ancient spirituality.
The documentary is inspired by the book 'An Officer and His Holiness' by Rani Singh and is narrated by British acting legend Hugh Bonneville (Downton Abbey, Paddington) and features music from Grammy-nominated artist Anoushka Shankar. The film is produced by Compassionate Films and the Executive Producers are Templeheart Films, Lyndon Baldock, Gavin Patterson and Rani Singh.
Director Jean-Paul Mertinez said "We are thrilled that the story of the Dalai Lama's escape from Tibet into India is coming to audiences on the big screen. Whilst making the film, I was profoundly moved by his compassion in the face of adversity, which will hopefully inspire many others. The film documents a key moment in world history that is still so relevant to the modern world."
'Never Forget Tibet – The Dalai Lama's Untold Story' will be coming to cinemas nationwide from 4th of April 2023, with a wider release on 19th April.
To watch the trailer please visit the link below