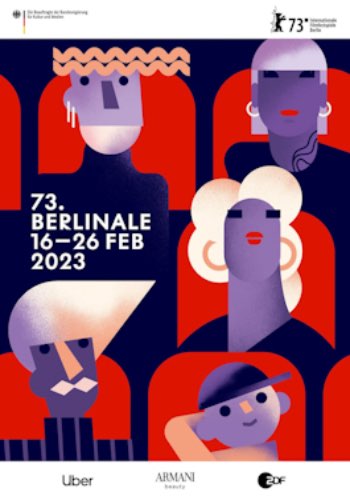 Berlin Film Festival Big Star Line-Up
Posted On:

February 15, 2023
The 73rd Berlinale, traditionally the most politically minded of the big three European festivals, will coincide with the first anniversary of the start of the Russian invasion. The event will screen nine new movies, primarily documentaries, about Ukrainian life in wartime, including Sean Penn's 'Superpower', shot by the two-time Oscar winner in Kyiv last February.
Artistic director Carlo Chatrian said the 11-day festival was "standing shoulder to shoulder with those who fight to express their ideas".
He promised films that "tell the story of the world with all its wounds as well as its heartbreaking beauty".
French-Iranian actor Golshifteh Farahani ("Paterson") will serve on the jury for the Golden and Silver Bear top prizes headed by Hollywood star Kristen Stewart, at 32 the youngest president in the festival's history.
Nineteen films from around the world will vie for the main awards, including 'Manodrome' starring Jesse Eisenberg and Adrien Brody, billed as a thriller about masculinity in crisis.
Three-time Academy Award winner Steven Spielberg is due at the festival to collect an honorary Golden Bear for his life's work, spotlighted in a retrospective.
British actress Helen Mirren will premiere the keenly awaited 'Golda' in which she stars as Israel's only female prime minister, Golda Meir.
Vicky Krieps, the acclaimed Luxembourg-born actor who made her breakthrough opposite Daniel Day-Lewis in 'Phantom Thread', will unveil her turn as renowned Austrian writer Ingeborg Bachmann in a biopic by veteran German director Margarethe von Trotta.
The opening night film will be Rebecca Miller's 'She Came to Me', a romantic comedy about a composer fighting writer's block, starring Peter Dinklage of 'Game of Thrones', Anne Hathaway and Marisa Tomei.
John Malkovich will present 'Seneca –- On the Creation of Earthquakes', a surreal take on the mentor of the tyrant Nero in Ancient Rome.
And 'Boom! Boom! The World vs. Boris Becker' -- a look at the travails of the German tennis champion by award-winning US documentarian Alex Gibney -- will make its debut.
Berlinale has a reputation for "finding new voices" and launching up-and-coming talents. We look forward to learning more of the talents in this year's festival.