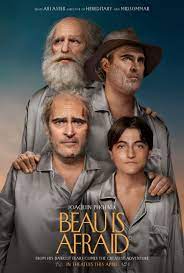 A24 Trailer for 'Beau Is Afraid' Starring Joaquin Phoenix
Posted On:

January 15, 2023
'Beau Is Afraid' follows Joaquin Phoenix's character, a successful entrepreneur, and the narrative is said to follow the character across multiple decades.
Starring alongside Joaquin Phoenix in this film are Nathan Lane, Patti LuPone, Amy Ryan, Kylie Rogers, Parker Posey, Stephen McKinley Henderson, Hayley Squires, Michael Gandolfini, Zoe Lister-Jones and Richard Kind.
'Beau Is Afraid,' which previously had a working title of 'Disappointment Blvd' is the director Ari Aster's third collaboration with A24, following his breakout horror hits "Hereditary" and "Midsommar," which were released in 2018 and 2019.
'Hereditary', a psychological horror, was Ari Aster's feature directorial debut, where he directed a cast including Toni Collette, Alex Wolff, Milly Shapiro and Gabriel Byrne as a family who is seemingly haunted by a mysterious presence after their secretive grandmother dies.
His second film starring Florence Pugh, 'Midsommar', follows a couple who travels to Sweden for a flower-filled Midsummer festival that turns out to be much darker than it appears.
Ari Aster also wrote the screenplay for 'Beau Is Afraid' in addition to producing alongside Lars Knudsen.
The film is set for release April 21st 2023.
Check out the trailer below.
https://www.youtube.com/watch?v=PuiWDn976Ek&embeds_euri=https%3A%2F%2Fvariety.com%2F&feature=emb_imp_woyt