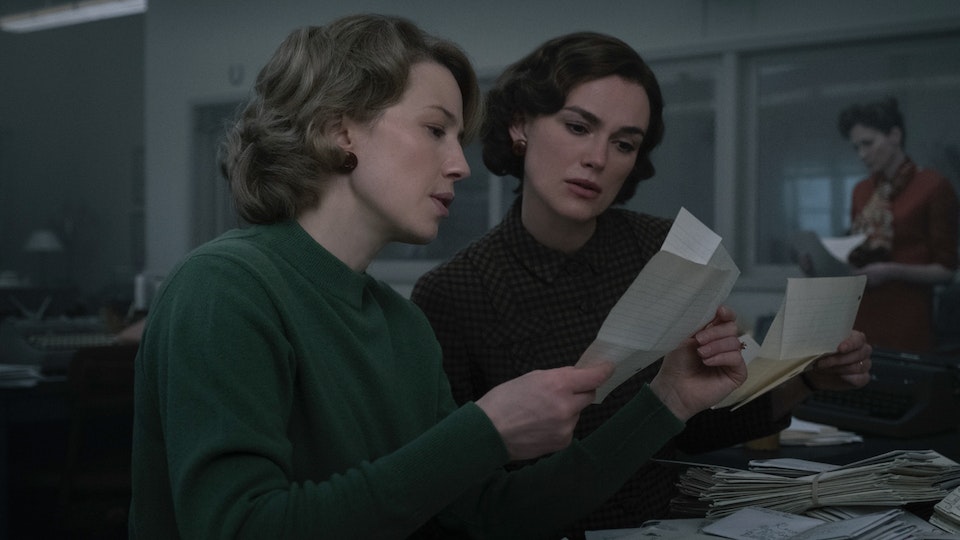 Keira Knightley and Carrie Coon In New Thriller
Posted On:

January 05, 2023
With the original 'Boston Strangler' movie starring Tony Curtis, in what many recognise as his greatest dramatic performance, and Henry Fonda, this new true crime film, also titled 'Boston Strangler', follows Loretta McLaughlin (Keira Knightley), a reporter for the Record-American newspaper, who becomes the first journalist to connect the Boston Strangler murders. As the mysterious killer claims more and more victims, Loretta attempts to continue her investigation alongside colleague and confidante Jean Cole (Carrie Coon), yet the duo finds themselves stymied by the rampant sexism of the era. Nevertheless, Loretta McLaughlin and Jean Cole bravely pursue the story at great personal risk, putting their own lives on the line in their quest to uncover the truth.
The film is helmed by Matt Ruskin who has a history with both documentaries and true crime stories in an recent interview he said: "Having grown up in Boston, I had always heard of the Strangler in a very abstract sense, but I didn't really know anything about the details of the case and a few years ago, I started reading about it and discovered a really fascinating, layered serial killer story," he says. "I always loved journalism stories and in researching the case, I discovered these two journalists, starting with Loretta McLaughlin, the first journalist to connect the murders, and in her reporting, she actually gave the Boston Strangler his name. It was a really monumental story for her in her career in the early 1960s. She was a very ambitious reporter in a male-dominated field and this was a real turning point for her." He continued to say: "In reading about Loretta and her partner Jean Cole, the other reporter she worked with, I discovered that Jean Cole's granddaughter is an old friend of mine, I called her up and said, 'is the Jean Cole your grandmother?' She said yes, and that she had adored her and so she introduced me to both Loretta and Jean's families, and they welcomed me with open arms, they gave me access to old photos, clippings and really shared the histories with me. So at that point, I was really hooked and devoted to telling their stories."
Other names in the cast are the likes of Alessandro Nivola, David Darmlchian, Morgan Spector, Bill Camp and Chris Cooper.

Even with such a sturdy cast there were more challenges for the director/writer: "A lot of old Boston doesn't exist any more," explains Matt Ruskin. "There are certainly old neighbourhoods with old buildings, but it's very difficult to shoot a period film these days, particularly in Boston where so much has changed. There's always some element that's not right for the period. We shot in the winter and some of those cars just don't start in the middle of January! But we had a wonderful group of people and I'm proud that we shot the film in Boston, very close to a lot of the real locations, it was an incredible opportunity to be able to recreate that period."
'Boston Strangler' will be released on Hulu in the US and Disney+ in the UK on 17 March 2023.