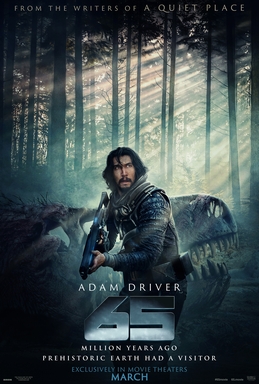 Trailer For '65' Drops, Starring Adam Driver
Posted On:

December 20, 2022
The exciting trailer for '65' has landed with a great looking performance by the two-time Oscar nominee Adam Driver showcasing his work in another sci-fi genre film.
The trailer for Sony Pictures sees Adam Driver's character return to outer space as an astronaut who crash lands on Earth… 65 million years ago.
Check out the logline:
Now, with only one chance at rescue, Mills (Driver) and the only other survivor, Koa (Ariana Greenblatt), must make their way across an unknown terrain riddled with dangerous prehistoric creatures in an epic fight to survive.
Scott Beck and Bryan Woods, writers of the 2018 thriller 'A Quiet Place', are at the helm of the production being the writers, directors and producers of the film.
Also starring in the film is Chloe Coleman.
'65' wrapped production in February 2021 but has had its release date pushed back several times over the last year. The movie will premiere in U.S. theatres on March 10th, 2023, via Sony Pictures Releasing.
Click on the link below to watch the trailer:
https://www.youtube.com/watch?v=bHXejJq5vr0&embeds_euri=https%3A%2F%2Fvariety.com%2F&feature=emb_imp_woyt