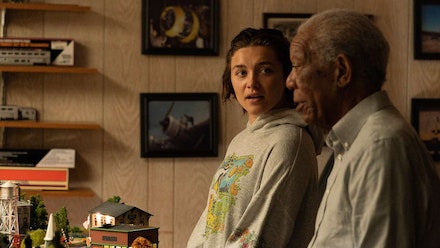 Trailer Lands For 'A Good Person'
Posted On:

December 19, 2022
'A Good Person' helmed by Zack Braff, who was in both the writing and directing seat, has released a trailer. The film stars Morgan Freeman and Florence Pugh.
The film follows Daniel (Morgan Freeman) and Allison (Florence Pugh), a once thriving young woman with a bright future who was involved in an unimaginable tragedy that took his daughter's life. As grief-stricken Daniel navigates raising his teenage granddaughter and Allison seeks redemption, they discover that friendship, forgiveness, and hope can flourish in unlikely places.
The cast also includes Molly Shannon, Chinaza Uche and Celeste O'Connor.
'A Good Person' will be released in US cinemas on 24th March 2023.
According to Sky, the film will also be on release in UK cinemas and on Sky Cinema next year.
To watch the trailer please visit the following link:
https://www.youtube.com/watch?time_continue=69&v=i8zPpJlWzLw&feature=emb_logo