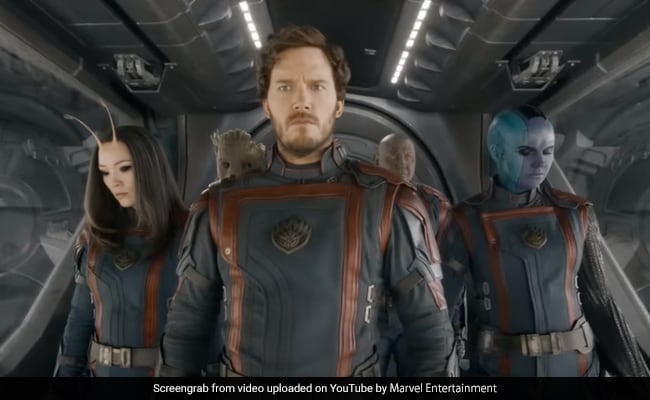 'Tis The Season For New Trailers
Posted On:

December 01, 2022
The beginning of December has seen a flurry of new trailers being released.
First up with Illumination and Universal's animated 'The Super Mario Bros.' movie, with Chris Pratt leading the voice cast, this new film looks to give the Lego Movie treatment to the Mario world. The idea is very much your basic Mario storyline with Bowser (Jack Black) up to no good and our hero must work with his friends to stop him. Also in the voice cast is Anya Taylor-Joy as Princess Peach, Charlie Day as Luigi, Keegan-Michael Key as Toad, Seth Rogen as Donkey Kong, Fred Armisen as Cranky Kong, Kevin Michael Richardson as Kamek and Sebastian Maniscalco as Spike.
The animation is directed by Aaron Horvath and Michael Jelenic, with the movie landing in UK cinemas on the 31st March 2023.
Watch the film trailer here:
https://www.youtube.com/watch?v=TnGl01FkMMo
Second up we have 'Indiana Jones And The Dial Of Destiny' which has Harrison Ford back for the fifth film as Indiana Jones.
Harrison Ford is now 80 and is back as the famous archaeologist, over 40 years since first playing the character. Along with Indiana, his friend Sallah, played by John Rhys-Davies, is also back.
The movie also stars Phoebe Waller-Bridge as Indiana's goddaughter as well as Mads Mikkelsen and Antonio Banderas.
What's interesting about this new film is Harrison Ford is 'de-aged' in many of the sequences and looks similar to how he appeared in the previous films.
Click on the below link to watch the trailer:
https://www.youtube.com/watch?v=SCvZGScG8yI
The film is directed by James Mangold and is expected to land in cinemas in June 2023
We also have Paramount Pictures first trailer for 'Transformers: Rise of the Beasts', which is the seventh instalment of the Hasbro film franchise. The latest movie introduces the animal-themed Maximals, Predacons and Terrorcons.
Anthony Ramos and Dominique Fishback star in the upcoming action film from director Steven Caple Jr., who previously directed 'Creed II.' Anthony Ramos plays Noah, an ex-military electronics expert who lives with and supports his family in Brooklyn. Dominique Fishback plays Elena, an artifact researcher at a museum. Peter Cullen, voices Autobots leader Optimus Prime throughout the franchise's run, and will reprise his role as the film centers on Optimus in 1990s Brooklyn and is inspired by the franchise's 'Beast Wars' storyline.
The trailer introduces Optimus Primal, the leader of the Maximals who's voiced by Ron Perlman and can transform into a gorilla. Additional cast members include Pete Davidson as Mirage, an Autobat who can transform into a Porsche; Sebastian Maniscalco as Wheeljack, who can become a Volkswagen bus; Michelle Yeoh as Airazor, a Maximal who can turn into a falcon; and Liza Koshy as Arcee, an Autobot who can transform into a Ducati 916 motorcycle.
To watch the trailer click on the following link:
https://www.youtube.com/watch?v=S5ymRv6wk98
The film is set to be released June 9th, 2023
Fourth up we have the trailer for the wedding comedy 'The Honeymoon' which is landing in the US on the 16th December, though a UK release date is yet to be confirmed landing on Amazon Prime Video.
This film sees Dean Craig (Death at a Funeral) as writer and director and stars Maria Bakalova and Asim Choudhry
The official synopsis for this one reads:
'In this raunchy romantic comedy, Adam whisks his new bride Sarah to Venice for a honeymoon. But when Adam brings best friend Bav along for the ride, Bav causes one gross-out disaster after another. When charming gangster Giorgio falls for Sarah, he gets rid of Adam and Bav by sending them across the border on a drug-dealing mission. Can they outrun the Slovenian cops, dodge bullets from the baddies after them, and get back before Sarah gets a rich mobster boyfriend.
To watch the trailer please visit the following link:
https://www.youtube.com/watch?v=cKzY-3aocBI
Last, but by no means least, Disney has just released Marvel's highly anticipated 'Guardians Of The Galaxy Vol. 3.' Teaser trailer.
This is writer/director James Gunn's final 'Guardians' film, with this instalment promising to wrap up the story of at least this group of Guardians.
Many familiar faces from past 'Guardians' films are returning as well, including Chris Pratt as Peter Quill, Zoe Saldaña as Gamora, Dave Bautista as Drax, Karen Gillan as Nebula, Pom Klementieff as Mantis, Vin Diesel as Groot, and Bradley Cooper as Rocket.
The official synopsis
Peter Quill, still reeling from the loss of Gamora, must rally his team to defend the universe along with protecting one of their own. A mission that, if not completed successfully, could quite possibly lead to the end of the Guardians.
To watch the trailer please visit the following link:
https://www.youtube.com/watch?v=u3V5KDHRQvk&feature=emb_imp_woyt
'Guardians Of The Galaxy Vol. 3' will be released on the 5th May 2023