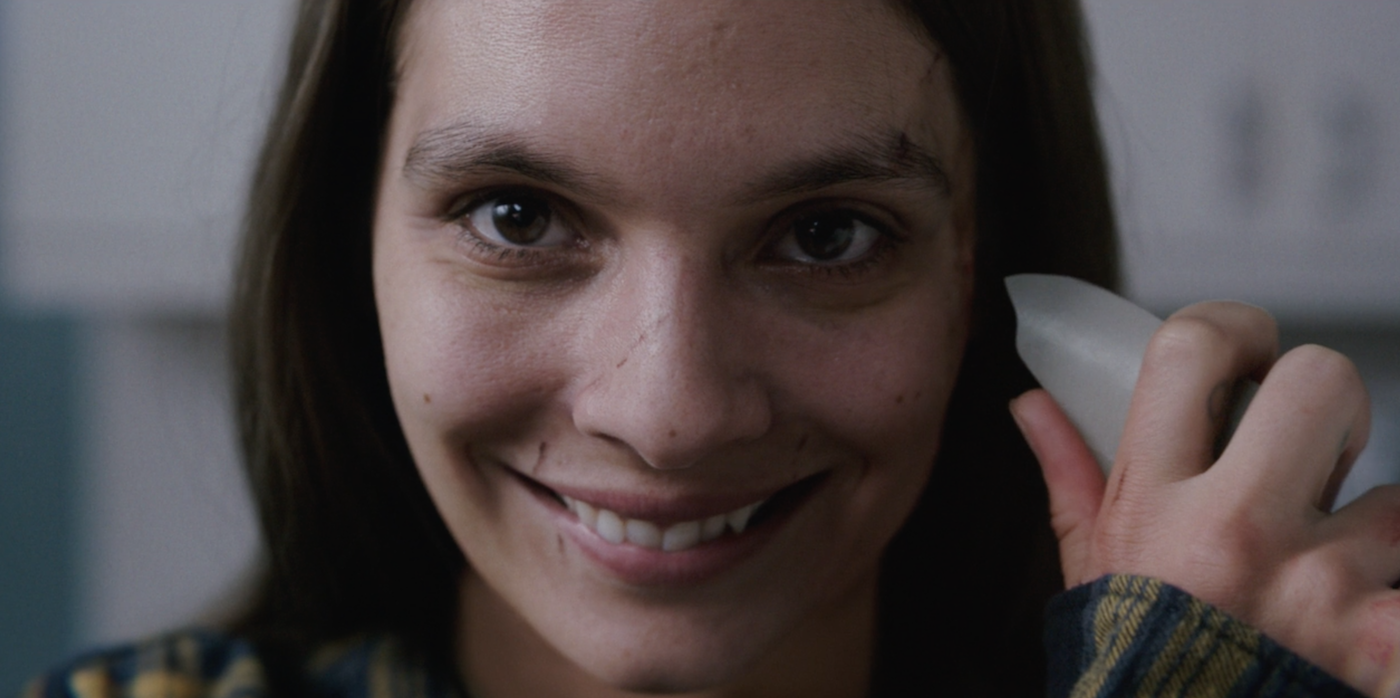 Paramount's 'Smile' Opens Strong At Cinemas
Posted On:

October 05, 2022
Paramounts 'Smile' landed top spot offshore at the weekend box office. The first footage of the film intrigued at the exhibition at CineEurope earlier this year, and now the movie continues to smile at the box office. Paramount officially reported 'Smile' had a $22M opening. Worldwide, 'Smile' is exuberant at $36.5M. The movie itself only had a budget of $17M before P&A.
The film was Written and directed by debut filmmaker Parker Finn and has been hailed the scariest movie of the year. The film follows Dr. Rose Cotter (Sosie Bacon), who, after witnessing a traumatic incident involving a patient, starts to experience terrifying and unexplainable occurrences.
This also begs the question: how does a B- CinemaScore movie like 'Smile' over index on Saturday night, when a starry film like 'Don't Worry Darling' starring Harry Styles, with the same grade, did not in its opening? One is a horror movie with a clearly defined demographic of 18-34 (68% turnout) and multicultural audiences (40% Caucasian, 32% Hispanic and Latino, 16% Black, 7% Asian and 5% other), and Paramount never lost sight of that in their marketing.
"It's hard to open original IP in this marketplace. But we created a mystique around Smile and ran a clever campaign," beamed Paramount Domestic Theatrical Distribution Boss Chris Aronson, "This is a very good start for Parker Finn; there is a style to this movie that is clever and smart."
Paramount went in heavily with the digital spend, they aired TV spots during sporting events. The movie trailered in-theaters on such movies as 'Bullet Train', 'Black Phone', Beast' and 'Barbarian' in recent months. TikTok views were driving engagement at 42M, plus YouTube views at 39M, prior to the weekend, creating the movie's social media universe to 110.2M across Facebook, Twitter, YouTube, Instagram and TikTok. That figure is above the horror averages measured by the analytics company. One brilliant stunt the studio pulled to raise awareness for the film was to have people infiltrate MLB games. Paramount placed these individuals in the crowd, and had them smile throughout the entire game directly into broadcast cameras. Honestly.
Comscore/Screen Engine's PostTrak says that those who decided to buy tickets to Smile: 41% came because it was a horror movie, 27% came with a friend who wanted to see it, while 25% heard it was 'good'. For those polled by PostTrak, the most effective pieces of marketing for Smile were the in-theater trailer (15%), the YouTube trailer (14%) and social media personality endorsements of the film (17%).
To watch the trailer for Smile please visit the following link
https://www.youtube.com/watch?v=BcDK7lkzzsU
Box office reported Sunday numbers for the weekend of Sept. 30-Oct. 2:
1.) Smile (Par) 3,645 theaters, Fri $8.2M, Sat $8.6M, Sun $5.15M, 3-day $22M/Wk 1
2.) Don't Worry Darling (NL/WB), 4,121 (+8) theaters, Fri $2.35M (-75%), Sat $2.9M, Sun $2M, 3-day $7.3M (-62%)/Total $32.8M/ Wk 2
3.) The Woman King (Sony) 3,504 (-261) theaters Fri $1.75M (-41%), Sat $3.1M, Sun $2.1M, 3-day $7M (-36%)/Total $46.7M/Wk 3
4.) Bros (Uni) 3,350 theaters, Fri $1.84M, Sat $1.74M, Sun $1.22M 3-day $4.8M, Wk 1
5.)Avatar (re) (20th/Dis) 1,860 theaters, Fri $1.16M (-65%), Sat $2.2M, Sun $1.3M, 3-day $4.696M (-62%), Total $779.09M (re-issue running total through ten days is $18.5M)/Wk 2 of re-issue
6.) Ponniyan Selvan: Part One (Sar) 500 locations, Fri $2.1M, Sat $1.1M, Sun $818K, 3-day $4.1M/Wk 1
7.) Barbarian (20th/Dis) 2,720 theaters (-145), Fri $809K (-42%), Sat $1.25M, Sun $754K, 3-day $2.8M (-42%)/Total $33.1M/Wk 4
8.) Bullet Train (Sony) 1,931 (+24) theaters, Fri $370K, Sat $630K, Sun $400K, 3-day $1.4M (-23%)/, Total $101.3M/Wk 9
9.) DC League of Super-Pets (WB) 1,924 (-427) theaters, Fri $250K (-31%), Sat $620K, Sun $435K, 3-day $1.3M (-25%)/Total $91.7M Wk 10
10.) Top Gun: Maverick (Par) 1,561 (-464) theaters, Fri $335K (-27%), Sat $575K, Sun $320K 3-day $1.23M (-24%), Total $713.4M/Wk 19