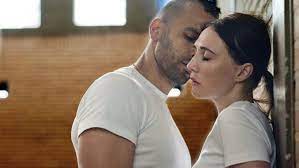 A24 Gains Rights For 'Instinct' Directed By Halina Reijn
Posted On:

September 21, 2022
A24 who are famous for spine-chilling and unsettling films have just gained rights for 'Bodies Bodies Bodies' director Halina Reijn's latest film, an erotic psychological thriller 'Instinct.' The company is planning a one-night only event to release the film through the company's screening room on Thursday 22nd September 2022 and tickets are now on sale.
The screening of 'Instinct' will mark A24's first time that the company uses it's screening room to show a film that they have not made themselves, instead they have acquired.
Carice Van Houten, best known for "Black Book" and "Game of Thrones," plays Nicoline, a criminal psychologist who begins work at a prison where one of her new cases, Idris (played by Marwan Kenzari), an apparently reformed sex offender, is preparing for release after five years of confinement. Despite her professional misgivings, Nicoline becomes infatuated with her charismatic, manipulative patient.
To find out more about the film and screening and to buy tickets please click on the following link
https://screeningroom.a24films.com/