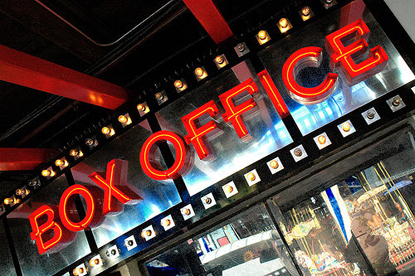 Box Office Has Officially Bounced Back
Look at the U.S. charts recently, with Baz Luhrmann's musical biopic 'Elvis', Blumhouse's totally creepy thriller 'The Black Phone,' as well as leftovers with 'Top Gun: Maverick' and 'Jurassic World Dominion' pulling in very healthy box office sales. The weekend marked the third week in a row that more than one major movie has managed to sell a meaningful number of tickets.
And the trend looks set to continue throughout the summer with Marvel's 'Thor: Love and Thunder' (July 8), Jordan Peele's 'Nope' (July 22) and director David Leitch's starry action-thriller 'Bullet Train' (Aug. 5) released in movie theatres.
"This is another very good weekend, with two successful new stories pulling very different audiences, in addition to strong holdover business," says David A. Gross, who runs the movie consulting firm Franchise Entertainment Research, "And we're headed for a long holiday weekend."
For a quite some time after cinema's opened their doors again from being closed due to the pandemic, there were only one-off successes, from 'Venom: Let There Be Carnage' ($90 million debut) to 'Spider-Man: No Way Home' ($260 million debut) and 'The Batman' ($134 million debut). Those figures were of course encouraging, but most of these were of popular comic books or sequels in well-known film franchises, which helped to jump up the box office figures. Whilst this did show that audiences were dipping their toes back in the water these results left industry experts fearing that other films, especially from genres that weren't of the superhero ilk, may not be able to survive at the box office yet.
"I've always maintained the box office is at its healthiest when there's something for everyone," says Chris Aronson, who leads domestic distribution at Paramount. "That's what you're seeing now. There's something for everyone."
There has also been an uphill battle for Hollywood studios due to the Covid-19 pandemic; many high-profile movies went directly on streaming services during that time, which didn't help conditioning moviegoers to wait to watch new releases at home.
But over the last weekend, a wide range of movies at the theatre had audience members putting down the TV remotes and heading back to the silver screen. With a first for post pandemic, four movies 'Elvis' ($30.5 million in its debut), 'Top Gun: Maverick' ($30.5 million in its fifth weekend), 'Jurassic World: Dominion' ($26.4 million in its third weekend) and 'The Black Phone' ($23.3 million in its debut) each grossed $20 million or more. Meanwhile a fifth, Disney's Pixar film 'Lightyear,' came close with $17 million.
Jim Orr, Universal's domestic distribution chief said "What a tremendous result," he continued with: "You have tentpoles, family films, horror films, an adult drama/musical. It's very encouraging going forward and a great sign that people really want to be back in theaters."
And the good news for box office results should continue next weekend a firm family favourite is set to return 'Minions: The Rise of Gru,' which is the fifth instalment in Universal and Illumination's 'Despicable Me' franchise.
Movie theater industry analysts believe the attendance surge is due to a combination of two main factors: People are feeling more comfortable returning to the movies, and the films being released are worthy of audiences to put their hand in their pockets and buy their tickets to see them on the big screen.
There is also actual data to back up the first reasoning behind the surge in box office sales. A record-high 88% of moviegoers are "very or somewhat comfortable" going to the movies, according to the latest study from the National Research Group. Around a year ago, that percentage was closer to 59%.
"Behavioral change is slow, and in the last two-plus years of the pandemic, people couldn't go to the movie theater and got out of the habit," said Jeff Goldstein, Warner Bros. president of domestic distribution. Now, he has shown his delight that audiences are feeling excited to get back to cinemas. "Without a doubt, the marketplace is coming back."