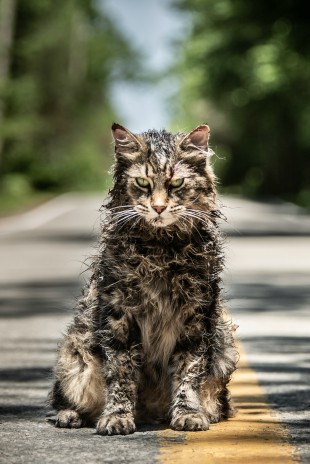 CHURCH Gets A Makeover In 'Pet Sematary' Remake
Winston `churchill', better known as Church, the super creepy cat in Pet Sematary is one of the two main antagonists in the novel as well as both the 1989 and the 2019 film adaptations. Church is the pet cat of Ellie Creed, and later on helps Gage Creed, in both the novel and 1989 film or Ellie in the 2019 film, kill everyone in their path.
Church certainly deserves to be a horror icon in his own right and we at Templeheart Films are looking forward to watching another Stephen King cracker.
"Based on the seminal horror novel by Stephen King, Pet Sematary follows Dr. Louis Creed (Clarke), who, after relocating with his wife Rachel (Seimetz) and their two young children from Boston to rural Maine, discovers a mysterious burial ground hidden deep in the woods near the family's new home. When tragedy strikes, Louis turns to his unusual neighbour, Jud Crandall (Lithgow), setting off a perilous chain reaction that unleashes an unfathomable evil with horrific consequences."
Pet Sematary first screened at SXSW and received strong reviews and that hasn't stopped as more critics have seen it. Paramount's release is the first Stephen King adaptation since the gigantic success of It in September 2017. It: Chapter Two follows closely, releasing September 6th.
One interesting title to watch this weekend will be Universal's Us as it faces its first major genre competition in Pet Sematary as it enters its third week in release. The film has already amassed over $183 Million Worldwide. Just how well Us and Pet Sematary can coexist could have a significant impact on the performance of both films this weekend.
In cinemas, tomorrow (5th April 2019).