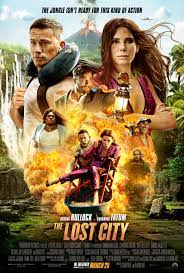 'The Lost City' Takes Box Office Top Spot.
Paramount, which is behind the screwball romantic comedy 'The Lost City', were delighted with this box office start, seeing their picture knock Batman off top spot. The film which has been described as 'Romancing the Stone' meets 'Raiders of the Lost Ark' has proven romantic comedies haven't entirely fallen out of favour with audience members. Even by pre-pandemic figures 'The Lost City' has had an extremely strong start for the genre. Of course, this has been helped by the positive reviews and the notable on-screen chemistry between the star actors.
David A. Gross, who runs the movie consulting firm Franchise Entertainment Research said in an interview "This is an excellent opening," he continued with: "Romantic comedies have been in decline for a dozen years, well before the pandemic. The combination of a big cast plus crowd-pleasing romance plus comedy plus adventure has worked before and it's working again."
Chris Aronson, Paramount's president of domestic distribution said "This has exceeded any of my expectations. It's great to see us and [Bullock and Tatum] rewarded for taking a risk."
Aaron and Adam Nee directed 'The Lost City,' an amorous action-adventure that takes place in a remote tropical jungle. The story follows Sandra Bullock as Loretta Sage, a middle-aged author who gets kidnapped by an eccentric billionaire (Harry Potter himself Daniel Radcliffe, in a villainous role) in the hopes she can discover the ancient lost city's treasure from her latest story. Brad Pitt also appears in a chaotic cameo.
At the domestic box office, 'The Lost City' knocked 'The Batman' off top spot, which had been number one for three weekends in a row. The Warner Bros. superhero film, which stars Robert Pattinson, took in $20.5 million in box office receipts between Friday and Sunday, which kept the film in second place and gave way to the current champion film.
To watch the trailer for 'The Lost City' please visit the following link:
https://www.youtube.com/watch?v=nfKO9rYDmE8