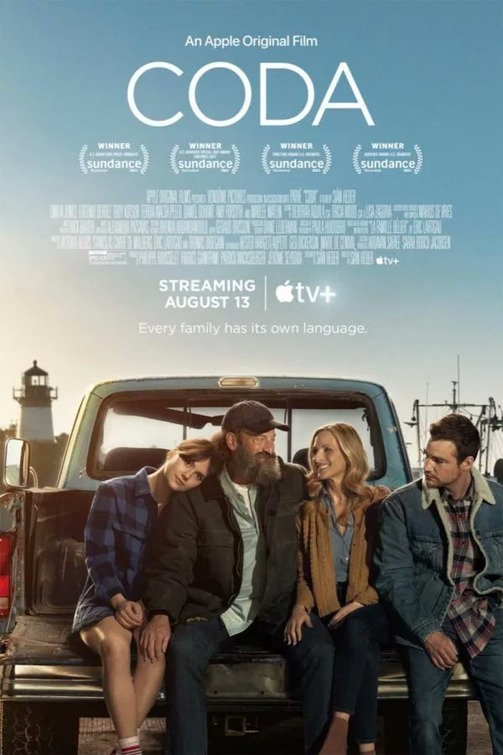 Apple Makes History: First Streamer To Win Best Picture Oscar
The Apple Original Film 'CODA', where the majority of the main cast are deaf, creates history making Apple the first ever streaming service to win the best picture Oscar, beating Netflix who was also up for the main award with their film 'The Power of the Dog', at the 94th Academy Awards.
Alongside the prestigious award, 'CODA' star Troy Kotsure won the Best Supporting Actor, which also made history being the first time a deaf male actor had gained an acting Oscar in any category and the second deaf actor ever after his co-star Marlee Matlin who won for the film 'Children of a Lesser God' in 1986. The third win of the night for this ground breaking film was director Sian Heder who won in the adapted screenplay category.
Not only did 'CODA' make history for Apple, the film also made history as the first Sundance Film Festival Premiere to take home the Oscars best picture prize. And it's the first film to win best picture without having been nominated in the directing and editing categories.
In the film, Ruby Rossi (Emilia Jones) is a child of deaf adults, or CODA, the only hearing member of her family. After she discovers a passion and talent for singing, Ruby is torn between her obligations to the family fishing business and pursuing her musical dreams. Kotsur and Matlin play her parents, and Daniel Durant co-stars as her brother, Leo. "CODA" is based on the 2014 French film "La Famille Belier," in which most of the deaf characters were played by hearing actors.
Sian Heder said in an interview backstage at the Oscars, as an ASL interpreter translated her remarks: "This is a really big moment for the deaf community. It's a really big moment for the disability community". She continued with "Marlee Matlin won an Oscar 35 years ago and not that much has changed in Hollywood, so I want to thank the Academy for making that change. And I want to say to everyone in the deaf community and everyone in the disability community that there's a place for you here, your stories are important and we need to make room. And this is one story and let this one be the first of many, many films to come out of this beautiful community."
Apple gained the rights to 'CODA" for $25 million after a bidding war last year following its premiere at Sundance. The film, produced by Vendôme Pictures and Pathé, premiered on Apple TV Plus in August.
To watch the trailer for 'CODA' please visit the following link:
https://www.youtube.com/watch?v=0pmfrE1YL4I