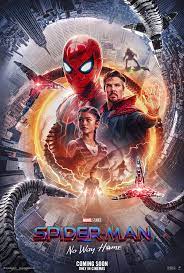 Spider-Man: Third Highest-Grossing Film Franchise.
Posted On:

January 13, 2022
'Spider-Man No Way Home' became the first pandemic-era movie to cross $1 billion a couple weeks ago, but it's not ending its adventure there. It continues it's global domination taking in a whopping $1.55 billion (£1.1 billion) so far.
In terms of domestic box office gross, the movie has made over $670 million, which brings its earnings very close to Infinity War, which closed out its domestic numbers at $678 million, and $2.05 billion overall. If No Way Home surpasses the 2018 Avengers film with $8 million more stateside dollars, it will take its spot as the fifth-highest grossing domestic release of all time. What's even more impressive is how the Spider-Man film has been able to reach these heights as COVID-19 cases climb after the holidays and a rapidly-spreading Omicron variant rages on.
Cineworld on Friday reported its December box office sales recovered to nearly 90% of pre-pandemic levels helped by the Marvel superhero film, sending its shares 3% higher. The world's second-largest theatre operator said its cash flow turned positive in the fourth quarter after sales improved.
'Spider-Man No Way Home' has upped the cumulative box office figure for the whole franchise to an incredible $9,255,751,759 which is ahead of the Harry Potter franchise that totals $9,245,613,281.
Highest-grossing franchises and film series
| | | |
| --- | --- | --- |
| Rank | Series | Total worldwide gross |
| 1 | Marvel Cinematic Universe | $25.34 billion |
| 2 | Star Wars | $10.32 billion |
| 3 | Spider-Man | $9.25 billion |
| 4 | Wizarding World | $9.24 billion |
| 5 | James Bond | $7.83 billion |
| 6 | Avengers | $7.76 billion |
| 7 | The Fast and the Furious | $6.62 billion |
| 8 | X-Men | $6.09 billion |
| 9 | Batman | $6.07 billion |
| 10 | Middle Earth | $5.95 billion |
To watch the trailer for the film please visit the following link
https://www.youtube.com/watch?v=JfVOs4VSpmA