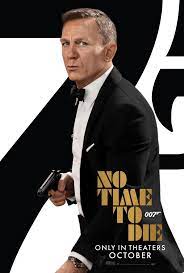 James Bond Soars At Box Office and Breaks Own Record.
Posted On:

October 08, 2021
The new James Bond film brought in a staggering $26.5 million on its debut in the UK and Ireland over three days, with the Saturday raking in $11.4 million making it the highest single day at the box office for a Bond title.
Starring Daniel Craig as Bond for the last time, 'No Time to Die' is set to break $119.1 million internationally. It was announced via NBC Universal that the latest outing in the franchise is set to be the first title from a mega studio to be released during the pandemic to gross over $100 million without including China.
'No Time To Die' is on target to bring in as much as 'Skyfall'.
In an interview with Sky News Daniel Craig said it was a "joyous thing" to see the film finally coming to cinemas. He continued to say "It would have been sad to see it on a streaming service and we got here and we're going to actually get into the cinemas."
If you haven't already seen the film, below is a link to the trailer:
https://www.youtube.com/watch?v=vw2FOYjCz38