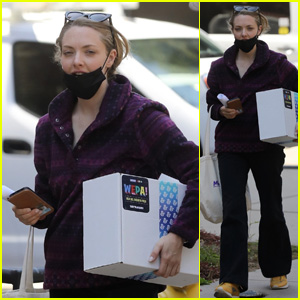 First Photos From Set of 'Dropout' Starring Amanda Seyfried
Amanda Seyfried is currently preparing to take on a high-profile role and is set to play the part of the controversial Theranos founder Elizabeth Holmes in the drama series 'Dropout' to be aired on Hulu. She was seen for the first time on set in L.A. last week.
Amanda Seyfried took over the role a few months ago from Kate McKinnon, who had dropped out earlier in the year due to scheduling issues. Not only is Amanda taking on this huge role, she is also attached to the project as a producer.
Amanda's character is the Stanford dropout who founded medical testing start-up Theranos. She was considered by many as a potential Steve Jobs figure for a new generation but things soon turned sour when it was revealed the tech didn't work.
The series will provide an exploration into the world's youngest self made female billionaire's rise and fall.
We wish Amanda all the best with this exciting new role.