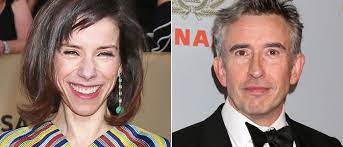 Richard III Starring Steve Coogan and Sally Hawkins Shoot in Leicester City Centre
'The Lost King', starring the popular British comedian and actor Steve Coogan and the Golden Globe award winning actress Sally Hawkins, began shooting last week in Leicester city centre. The film, which is being directed by Stephen Frears was written by Jeff Pope and co-written by Steve Coogan himself, 'The Lost King' is based on the true story of how Richard III's grave was discovered below a non descriptive council-owned car park in Leicester a decade ago. The film focuses on the story of Philippa Langley, the amateur historian and secretary of the Scottish branch of the Richard III Society, whose passion and drive pushed the project forward, despite objection and ridicule from historians and academics. The king, killed in the Battle of Bosworth in 1485, was successfully exhumed in 2012.
Philippa Langley is played by Sally Hawkins (Paddington 2, Shape of Water) and Steve Coogan has taken the role of her husband in the comedy drama which is also produced by his production company Baby Cow Productions. The same team behind this film also made the award-winning 2013 feature 'Philomena'
The project has been in development for several years now and in an appearance on Zoe Ball's BBC Radio 2 breakfast show in September, Steve Coogan confirmed filming would begin this year.
There isn't a release date as of yet for 'The Lost King' but we look forward to hearing further news soon.