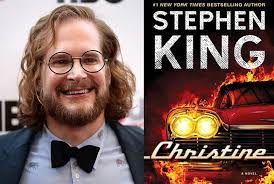 Stephen King's 'Christine' To Get A Huge Reboot.
Stephen King's original novel 'Christine' is set in the late 1970s, about a 17-year-old named Arnie who fixes up a 1958 Plymouth Fury that, naturally, is haunted by its previous, not-such-a-nice-guy owner, who named the car Christine. Soon, Arnie begins taking on the old owner's personality and appearance and the car seems to have it out for his best friend, new girlfriend and anyone else getting between Arnie and Christine.
This won't be the first screen adaptation of the supernatural horror novel. The first feature film, titled of the same name, was created in 1983 and directed by John Carpenter for Columbia Pictures. The film was made with a $10 million budget, grossed $21 million at the US box office with mostly positive reviews from critics and has since become a cult classic.
This will be Bryan Fuller's first entry into features after three decades in television, including creating cult 2000s series "Wonderfalls" and "Pushing Daisies". Bryan Fuller also previously adapted a different King novel, "Carrie", as a 2002 TV movie for NBC, with David Carson directing.
Bryan Fuller has announced he very much intends on keeping the horror grounded to its roots by setting it in the early 80's.
As fans of the novel and the first film adaptation, we very much look forward to seeing Bryan Fuller's new revved up version.