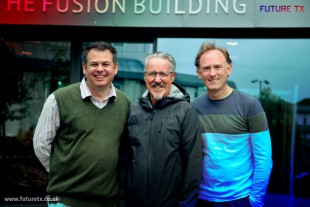 That's A Wrap! For Kids Sci-Fi Movie 'Future TX'
Posted On:

August 29, 2018
Never is there a production that doesn't have a story to tell 'behind the scenes' and Future TX was no different. Whilst the shoot went relatively smoothly, there were a couple of obstacles to overcome including the wonderful British weather.
The movie was filmed entirely in the Bournemouth and Poole area, using local cast and crew alongside Griff Rhys Jones, Doug Cockle (The Witcher), Catriona Knox (Charlie Brooker's Screen Wipe), Nicole Faraday (Bad Girls), Christos Lawton (The Terror), Kevin Hudson (Dr Who), Laurent C Lucas (The Time of Their Lives) and Russell Biles (Who Killed Nelson Nutmeg?). The two lead child stars of the film are Arran Kemp and Adele Congreve, who both make their feature film debuts.
Comedy genius Griff Rhys Jones joined the production in the middle of the shoot for a period of 7 days, where he took on the role of 'Homeless Foley' and his sinister twin brother. He completely embodied the roles, so much so, he had his own personal set of 'rotten' false teeth specially delivered to the set to complete his look! He was an absolute pleasure to work with and as you can imagine, we had a good few laughs along the way.
Arh..the British weather! Due to typically unpredictable and ever changing forecasts, we had to reschedule a whole day's worth of filming. Due to this we didn't have a key cast member available for some of the rescheduled scenes, involving a wonderful quirky character. So, exec producer Jan Caston stepped into the role (and fitted the costume!) which enabled us to film the scenes in their entirety. And Jan proved to be so good in the role, she now features in the film as that quirky character! Team work goes along way.
Future TX is about two kids who get their first mobile phones but they receive a call from someone who says he is from the future, and he needs their help if the world is to survive.
The cast and crew were fantastic and the team really pulled together to complete the film on schedule. We are really excited about this film and can't wait to release further news on the post-production and screenings. Watch this space!