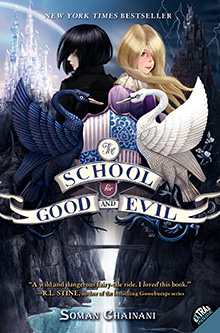 Charlize Theron movie 'School for Good and Evil' filming in Belfast.
Netflix's new movie 'The School for Good and Evil' has begun shooting in Ireland, Belfast. Not only does it star Charlize Theron, but the cast ensemble for this movie is also of outstanding calibre.
The production has started shooting at St Peter's Church, Belfast and for their first movie ever at Harbour Studios also in Belfast. The large budget production hasn't scrimped on the casting of this movie as along with Charlize Theron it has some fantastic names including BAFTA nominated Malaysian actress Michelle Yeoh ('Avatar,' 'Star Trek: Discovery'), Oscar nominated American actor Laurence Fishburne ( 'Matrix', 'Mission: Impossible III'), Golden Globe nominee, American actress Kerry Washington ( 'Django Unchained', 'Fantastic 4') to name a few.

The movie is directed by Paul Feig, who is also named as a producer. Paul is best known for directing Bridesmaids and the Ghostbusters remake. The movie is also produced by Fast and Furious 9 producer Jeff Kirschenbaum.
The School For Good and Evil is based on a best-selling series of young adult fantasy novels by Soman Chainani and follows a group of girls and boys who are taken to an institution and trained to become fairy tale-like heroes and villains.