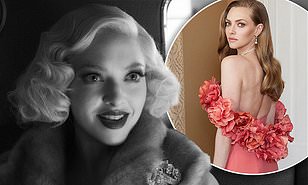 Amanda Seyfried Gets First Oscar Nomination
Amanda Seyfried has gained her first Oscar nomination for her role as Marion Davies in David Fincher's biographical drama, 'Mank.' The film is set in the 1930's about an alcoholic screenwriter Herman J. Mankiewicz as he races to finish the screenplay for the Orson Welles classic Citizen Kane.
In an interview with 'The Hollywood Reporter' Amanda said "It's a big turning point for me in my career to be a part of something that's so recognized and for my own singular performance to be recognized. It's really nice. To be recognized by your peers — you don't expect it but when it happens, it just deepens my clarity on having chosen my career."
Amanda continued to speak about how she feels about 'Mank' leading the scoreboard with 10 nominations and how it felt to be on a David Fincher set. "The first thing that comes to mind is, I'm not surprised because it was a feat. It's a masterpiece. It's David Fincher, and the people he hires are of his caliber. It took me a while to feel like I deserved to be on set — that he had chosen me and he trusted me — but you get there. At a certain point you just have to rise to the occasion, and I believe that 100 percent of the people that are involved in this movie, every little piece, is why it is what it is. It feels like it was made in the past, and it's not easy to do that. We got to re-examine the legacy of someone who has not been deserving of the legacy that he had. There's just a lot of beautiful things happening in the movie. That's the whole point. It's a well-written, beautiful movie that's well-deserving of the recognition because it's had a really big impact on people, much like Citizen Kane did. So kudos to David. It's not like I ever questioned whether or not he was going to nail it. I just questioned whether or not I was going to be enough".
Amanda plays Julie in the leading role in our upcoming movie 'A Mouthful of Air.'
To read the full interview with Amanda Seyfried please visit the following link
https://www.hollywoodreporter.com/news/mank-star-amanda-seyfried-on-her-first-oscar-nomination-its-a-big-turning-point-for-me

There's several Brits in the running for the awards too; Carey Mulligan, Olivia Colman, Daniel Kaluuya, Sir Anthony Hopkins, Vanessa Kirby, Sacha Baron Cohen and Riz Ahmed are among the British stars nominated for this year's Oscars.
This year also sees the first time more than one woman has been shortlisted for Best Director in the awards' 93-year history.
Chloe Zhao is nominated for directing Nomadland, and Britain's Emerald Fennell is recognised for Promising Young Woman.
The winners will be announced on the 25th April 2021.
To see the full list of nominees please visit the link below
https://www.thewrap.com/oscar-nominations-2021-the-complete-list/