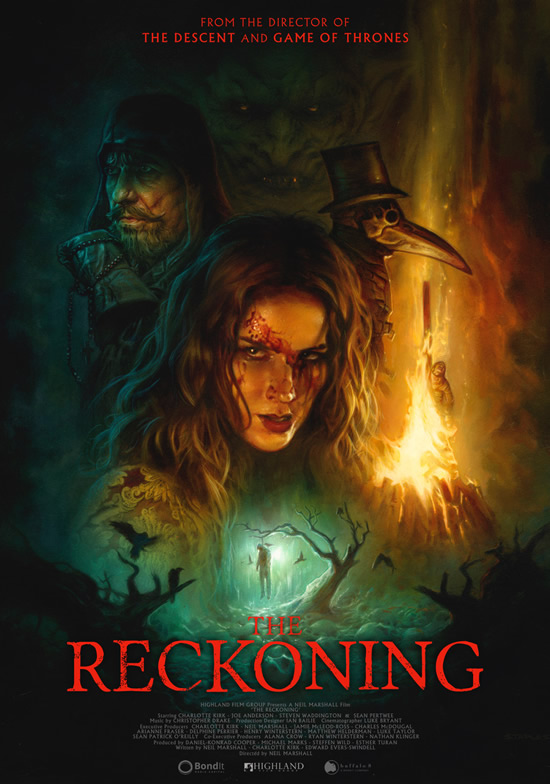 Trailer For Neil Marshall's 'The Reckoning' Lands
Posted On:

January 12, 2021
'The Descent' director Neil Marshall has released the first trailer for the plague and witchcraft thriller, and it looks fantastic.
'The Reckoning' finds Charlotte Kirk as Grace Haverstock who, after losing her husband during the Great Plague, is unjustly accused of being a witch and placed in the custody of England's most ruthless witch-hunter, Judge Moorcroft (Sean Pertwee). Forced to endure physical and emotional torture while steadfastly maintaining her innocence, Grace must face her own inner demons as the Devil himself starts to work his way into her mind.
Not only is Charlotte Kirk starring in the movie, she also co-wrote the screenplay with Neil Marshall and Edward Evers-Swindell.
"The Reckoning was initially born out of a desire to spin a good yarn that would chill and thrill in equal measure. We love the idea of scaring the hell out of audiences and wanted to make something truly terrifying, but also unlike anything we'd seen before," Both Neil Marshall and Charlotte Kirk said in a statement. "As part of the creative process, we did a ton of research and the more we unearthed about the horrific trials and tribulations thousands of women were forced to endure, we felt this story should carry a more powerful message along with the scares. So, The Reckoning is as much about female empowerment as it is about Witch Hunts and the Great Plague of 1665. And of course, when making the movie in 2019 we had no idea the world was about to be brought to its knees by a modern-day plague, and how that would add to the many reasons this movie is so relevant for today's audience."
The Reckoning is distributed by RLJE Films and Shudder and is scheduled to be released in theatres in the US, on demand and digital on the 5th February. There is no date announced as of yet for the UK.
You can watch the trailer here:
THE RECKONING Trailer (2021) Neil Marshall Horror Movie - YouTube
We especially look forward to watching 'The Reckoning' when available and hopefully catching another sinister Sean Pertwee performance. Sean previously starred in our Paul Hyett thriller 'The Seasoning House.'
If you have not already seen 'The Seasoning House' you can rent it here: