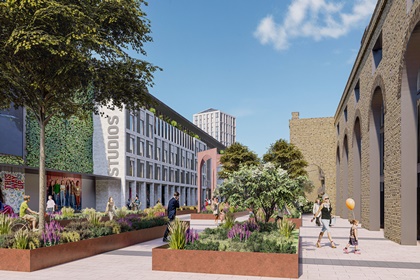 Greenlight for New 250 Million UK Film and TV Studio
The project, which is headed by The Creative District Improvement Company (TCDI) and Quinn Estates, was approved by Ashford Borough Council during a virtual meeting.
TCDI has made plans to open the studio doors early in 2022 and the firm has said it is the biggest single investment in a UK studio, and that Netflix and Amazon have both indicated their interest in using the new space.
Newton Works was once a locomotive manufacturing company on a 15-acre site, which has been abandoned since the 1980's. The site will be converted into 240,000 square feet of TV and film production space, as well as a media centre, education space and hotel. The project aims to create more than 2,000 jobs.
Adrian Wootton, chief executive of the British Film Commission and Film London, said: "We are, of course, operating in unprecedented times and the impact of Covid-19 will undoubtedly be felt deeply by screen industries as we work through this ever-evolving situation. Today's announcement highlights the industry's commitment to an ongoing strategy to ensure its sustainability, building on the UK's rich history of attracting filmmakers, nurturing talent and creating world class content."