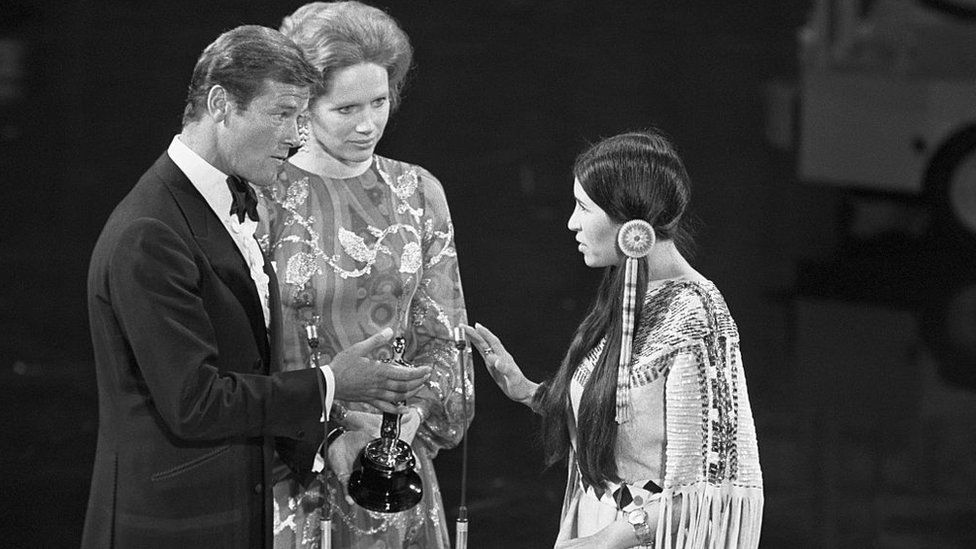 Academy Apologises To Sacheen Littlefeather After 50 Years
Posted On:

August 15, 2022
After nearly 50 years the Academy has now apologised to a Native American actress and activist who was booed off stage at the 1973 Oscars when she appeared to refuse an award that Marlon Brando won for 'The Godfather,' at his request.
On the 17th September 2022 The Academy Museum of Motion Pictures will host an evening of "conversation, healing and celebration,' with the event featuring a formal apology to Sacheen Littlefeather who is now 75 and has suffered decades of abuse within the industry after her appearance and speech at the 1973 Oscars.
The Academy has formally acknowledged how the actress has been "professionally boycotted, personally harassed and attacked, and discriminated against for the last fifty years" following her decline for the Oscar and her speech.
"On September 17, join Sacheen Littlefeather at the Academy Museum for a night of conversation, healing, and performances as we reflect on the impact of her speech at the 45th Academy Awards (currently on view in our Academy Awards History gallery)," the organisation tweeted.
"Sacheen invites you to a special celebration of live Native American Indian performances featuring a long-awaited statement of apology from the Academy".
A first for the Oscars, Sacheen Littlefeather took to the stage wearing a buckskin dress and moccasins where she delivered a short speech explaining that he (Marlon Brandon) could not accept the award due to "the treatment of American Indians today by the film industry".
There were audience members that booed her. John Wayne was reportedly furious. The 1973 Oscars were held during the American Indian Movement's two-month occupation of Wounded Knee in South Dakota. Following this for years, Sacheen Littlefeather has said she has been mocked, discriminated against and personally attacked for her brief Academy Awards appearance.
As they made their announcement the Academy Museum shared a letter sent on 18th June to Sacheen Littlefeather by David Rubin, the academy president, about the historic Oscar moment.
David Rubin called Sacheen Littlefeather's speech "a powerful statement that continues to remind us of the necessity of respect and the importance of human dignity."
David Rubin continued to write "The abuse you endured because of this statement was unwarranted and unjustified," He finished his letter with "The emotional burden you have lived through and the cost to your own career in our industry are irreparable. For too long the courage you showed has been unacknowledged. For this, we offer both our deepest apologies and our sincere admiration."

In a statement regarding the letter Sacheen Littlefeather said it is "profoundly heartening to see how much has changed since I did not accept the Academy Award 50 years ago." She continued with: "Regarding the Academy's apology to me, we Indians are very patient people - it's only been 50 years!" she said. "We need to keep our sense of humor about this at all times. It's our method of survival."