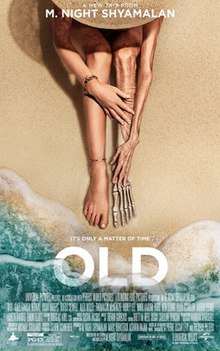 M. Night Shyamalan's 'Old' Get's Top Spot At Box Office.
Last weekend 'Space Jam: A New Legacy' was the leading film in box office ticket sales and along with the newly released film 'Snake Eyes' and these were tipped to lead the North American charts. Instead, in a surprising turn of events, 'Space Jam: A New Legacy' had a large decline from its opening weekend sales and 'Snake Eyes' didn't meet predicted expectations, leaving the door wide open for 'Old' to slide in and finish first.
It just goes to show you how unpredictable the box office can be and that major studio films do not always hit top mark and the underdog gets the glory. 'Old' is M. Night Shyamalan's fourth self-financed chiller costing $18 million. Although this is M. Night Shyamalan's lowest opening weekend of his films, due to his budget they don't have to break records to become profitable and we are still coming out of the Covid-19 pandemic where ticket sales are still lower than before. It's sometimes hard to market and draw in an audience for independent movies without any stars to increase the pull and while there are many fine actors in 'Old', none of them have a large fan base. So, it goes to show marketing and a good trailer really does help. The $20 million global start still brings the film higher than its budget and as the film continues its cinema run this will only increase.
Universal's chilling mysterious thriller 'Old,' is a horror story about a family vacationing at a beach that causes them to age rapidly, reducing their entire lives into a single day.
Jim Orr, Universal's president of domestic distribution, says he expects 'Old' to have a long life in theaters.
"M. Night Shyamalan has an incredible track record," Orr says, giving a nod to the studio's marketing team. "And these can be difficult films to market because you don't want to give away too much."
'Snake Eyes' landed in second place for its debut weekend with $13.3 million from 3,521 locations. In other territories it grossed $4 million from 37 markets (29% of its international footprint). With this film costing $88 million that's a disappointing start and they will have to up their marketing and strategy if they are going to claw back on their budget.
To watch the trailer for 'Old' please visit the following link:
https://www.youtube.com/watch?v=A4U2pMRV9_k
To watch the trailer for 'Snake Eyes' please visit the following link
https://www.youtube.com/watch?v=Vd2sm63Xwfw