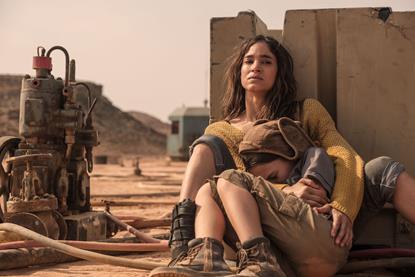 Film Constellation Pre-Sells Sci-Fi Movie 'Settlers'
The debut feature film by Wyatt Rockefeller 'Settlers' has acquired new deals for the film which include the UK (Vertigo Releasing), Germany, Austria, Switzerland and Italy (Koch Films), with Australia and New Zealand (Rialto Distribution). There are further negotiations for more territories ongoing. Back in April the movie sold to IFC Midnight for the US release set for this summer.
Synopsis
Ilsa has fled Earth with her husband and daughter to settle on the harsh and arid terrain of a Martian outpost. With nothing but a few crops and a domesticated robot named Steve, the family clings to hope for a better life. When a group of armed assailants appear on the surrounding hills and take the family hostage, mother and daughter are forced to adapt until it's finally time to strike back.
Sofia Boutella stars as Ilsa, a refugee from Earth who has settled with her husband, daughter Remmy and a domesticated robot on the harsh, arid terrain of a Martian outpost. A group of armed assailants attempts to run them off, revealing the desperate reality of their situation to Remmy. The breakout star actor from 'The Florida Project' Brooklyn prince plays the younger Remmy whilst Nell Tiger Free from 'Game Of Thrones' as the older version. Jonny Lee Miller plays Reza Ilsa's husband with Ismael Cruz Cordova also in the cast.
The movie is still currently in post-production which was produced by Julie Fabrizio for Jericho Motion Pictures, Joshua Horsfield for Intake Films, both companies based in the UK and Johan Kruger for South Africa's Brittle Star Pictures. Ben Pugh serves as executive producer through his management & production firm 42.
Léo Teste, sales and acquisitions manager at Film Constellation said in relation to the film "The market response to the talent involved has been terrific, and we can't wait to introduce the film at the Cannes market."